Municipal wireless networks and government infrastructure are integral to public safety operations and require a reliable, high performance network backbone. These can include wireless access networks for the public and/or for city workers using WiFi, Private LTE, or CBRS spectrum, IP camera deployments, and ultra high speed connectivity for public buildings such as city hall, libraries and schools. Urbancom.net engineered these networks to be available 24/7 and to withstand natural disasters and emergencies.
Learn more about some of our municipal projects below.
Cook County Fiber Optic Network Operations
As part of Urbancom's operation of the Chicago Southland Fiber Network (CSFN) Urbancom provides network operations NOC services to Cook County to manage Cook County's fiber optic network. The network provides a redundant private network to key county governmental locations throughout the City of Chicago and suburbs. Urbancom is responsible for monitoring and maintain the operation of that network.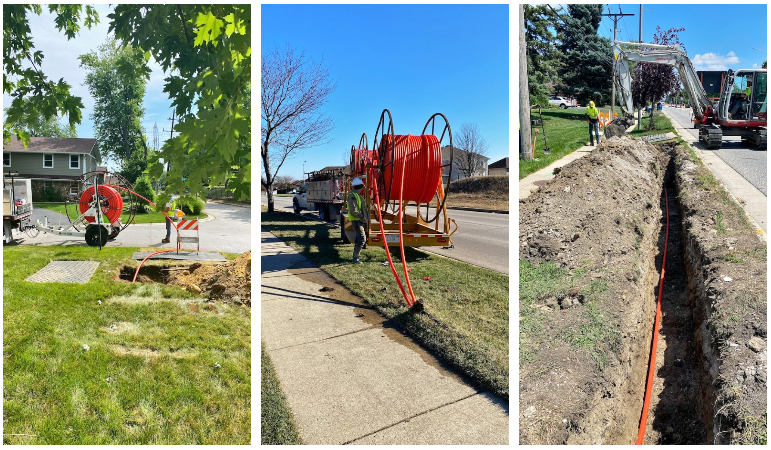 BUFFALO GROVE - GIGABIT MICROWAVE NETWORK UPGRADE
Plagued with a wireless wide area network that was slow and used aging equipment that has not been manufactured for many years the Village of Buffalo Grove turned to Urbancom to do a Village wide analysis and come up with a plan to modernize their infrastructure.

GREEN BAY, WI - UPGRADE WIRELESS INFRASTRUCTURE
As part of a Homeland Defense grant, Urbancom.net was selected to upgrade the city's wireless infrastructure to support increased video surveillance of the city's water way areas as well as assist the US Coast Guard in protecting important waterway infrastructure.

BERMUDA MICROWAVE TO SUPPORT VIDEO SURVEILLANCE
Urbancom.net was engaged by the Bermuda government and their local IT contractor to design and engineer a DragonWave network to support video surveillance island-wide. Our design allows for a ultra-high speed, fully redundant microwave network to ring the entire island of Bermuda, and provides transport for 147 video surveillance cameras at 81 locations throughout the island.

WINNEBAGO COUNTY - HIGH CAPACITY MICROWAVE
Winnebago County contracted Urbancom.net to upgrade the communications backbone network, which connects several critical government and public safety facilities, to a reliable carrier-grade microwave solution with minimal disruption to their facilities and staff. The current system comprised of unlicensed microwave and costly leased lines was not providing the reliability or scalability needed to support the county's bandwidth intensive video and internet connectivity applications.
FRANKLIN PARK TOWER - MICROWAVE & VIDEO SURVEILLANCE
Urbancom.net was contracted by the Village of Franklin Park to design and implement metro-wide video surveillance.
As part of that project, Urbancom.net constructed a 125 ft. multi-carrier tower to provide the necessary infrastructure to support that community wide video surveillance project.  The project links key sites with carrier grade high capacity backhauls and 4.9Ghz multipoint radios to allow the village to blanket the community with signals to deliver high definition video from the street corner to the village's 911 dispatch center.  Using Axis PTZ cameras and Milestone VMS software, the network allows the police to respond more quickly.