Public internet access is integral to community development and Urbancom.net provides cost effective voice, video, and data services to meet staff, student, and library patron needs.
Urbancom.net is a provider of Eligible Priority 1 and Priority 2 Products and/or Services plus a variety of beneficial, yet ineligible, products and services.
Learn about our education projects below.
Urbancom.net offers all clients:
A Tier III data center has the following characteristics:
Technology Audits and Planning
Grant Writing Assistance
Facilities & network design/planning
Network & electrical capacity planning
Equipment recommendation & bidding
Installation & Secure Configuration
Network support (hourly and contract-based)
Secure Data Backup and Disaster recovery/avoidance
Video Surveillance and event recording
Remote IP-based video feeds
Point-to-Point WANs
WiFi networks including secure Hot Spots
VoIP telephone systems with E911
Internet and spam filtering
Teleconferencing / Telepresence
Chicago Southland Fiber Network
The Chicago Southland Fiber Network (www.csfn.us) consists of an initial 60 miles of fiber optic backbone and lateral infrastructure linking south suburban municipalities, public safety sites, community colleges, economic development fiber optic access sites, and two major Cook County anchor locations – Markham Courthouse and Oak Forest Hospital. This infrastructure provides backbone connectivity to the South Suburban Mayors and Managers Association (SSMMA) communities along the I-57 and other key sites in the corridor, establishing access to high capacity Internet services.
In 2020 as part of Cook County Board President Toni Preckwinkle's Digital equity program Cook County provided matching funds for the State's Connect Illinois broadband expansion initiative creating a substantial expansion of the CSFN network. That construction commenced in 2022. With additional investment by Cook County from ARPA funds in 2023 the network expansion will connect to an additional 17 communities in the Chicago Southland.
This enables access to the Illinois Century Network (ICN), which is used for education and public institutions. Dark fiber resources for both public and private entities provides point-to-point of multi-point network and data applications.
As part of the project, Urbancom.net has upgraded the data center facility in Oak Forest to a Tier III+ level, which accommodates more than 50 high density server cabinets for both governmental and commercial co-location of servers, cloud computing, and disaster recovery support.
Urbancom.net CEO Ed Urban commented at the recent Southland Economic Development conference that he is pleased with the high level of support provided by former Governor Quinn for the project which he believes will be an economic boom to Chicago's south suburbs.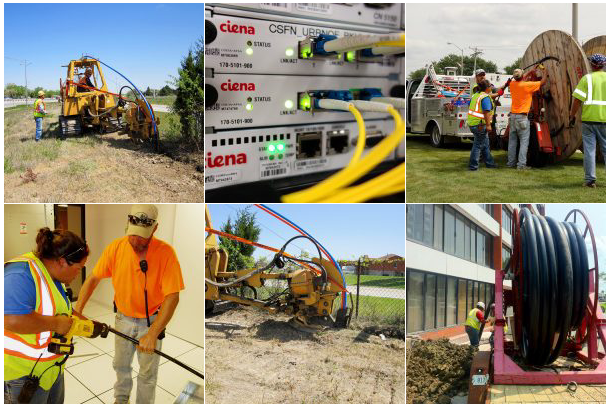 Construction of the tower and microwave link at the Erie School District was part of a larger iFiber project.
Urbancom.net was awarded a multi-million dollar contract to design and build a broadband microwave network to provide high speed Internet throughout nine northwest Illinois counties. This network is part of the $68.5 million broadband stimulus NTIA BTOP grant to iFiber and will provide more than 500 community anchor institutions with speeds of up to 1 Gbps via the 900 mile fiber and microwave network.
The Illinois Fiber Resources Group (iFiber) is an Illinois not-for-profit organization and public-private partnership dedicated to improving broadband infrastructure for community anchor institutions such as schools, government, public safety, libraries, community colleges, and health care providers.
Combining dark fiber and wireless infrastructure, Urbancom.net designed a reliable high-speed broadband backbone network for the nine-county region that supports up to 10 Gbps. Carrier grade wireless microwave technology cost-effectively connects more users at speeds between 100Mbps and 1Gbps than direct fiber connection on the 900-mile fiber optic network backbone. This leads to efficiency in service as well as increases remote off-site storage capabilities, supporting reliable connections to education and library facilities.