Best In Class Reliability • Performance Guaranteed

Safe and Secure Cloud Backup Up to 7X24X365 Support Personal and Prompt Support Protect for Operation or Physical Failures Affordable Pricing Protection from Ransomware

High-Speed Recovery
Data Loss Avoidance
Verified Recoverability
Leveraged Data
Complete Visibility
24/7/365 Access to Data & Applications
Protection from Ransomware

Protect Against any Failures
Protect Against Ransomware Demands
Stay Compliant to Regulations Government and Healthcare
7X24X356 Support
Spin up Virtual Servers and Data in One Click
Pick Your RPO and RTO Goals
Protection from Ransomware

Ultra High Capacity 100 times faster than cable
Speeds from 100 Mbps to 10 Gbps
Symmetrical dedicated download & upload speeds
Highly reliable SLA 99.99% uptime guarantee

Replace your legacy PBX with a hosted Cisco™ PBX no hardware to purchase
Unlimited calling plans
Customized auto call attendants
No administrative costs to maintain your system
Toll Free Numbers
SIP trunk options for large volume customers
Local numbers available nationwide

Fast installation 2-5 days
Speeds scalable from 1.5 Mbps to 1 Gbps
Industry leading SLA 99.99% uptime guarantee
Redundant from phone & cable companies

High speed low latency networks
Government, Enterprise, Education & Healthcare
Engineered to provide 99.999% uptime
Speeds of up to 4 Gbps / 4 Gbps

Disaster Recovery for your business & hosted cloud services
99.999% Uptime guarantee for your servers
Scalable from 1 U of space to multiple cabinets
Diverse fiber optic paths each with 400 Gbps capacity
N+1 power and cooling, full A/B power to all cabinets
Redundant power feeds with natural gas generators
Secure facility with clean agent fire suppression

Improve safety with remote IP Video Cameras
Replace outdated cameras with high definition
License Plate recognition
Centralized Milestone surveillance management system
CHICAGO SOUTHLAND FIBER NETWORK PROVIDING 100 GBPS CONNECTIVITY SERVING GOVERNMENT AND ENTERPRISE BUSINESS USERS.
Managed and operated by Urbancom.net in co-operation the South Suburban Mayors and Managers Association, the Chicago-Southland Fiber Network provides a high speed Gigabit Fiber Optic Network serving the Chicago South Suburbs. The network links the South Suburbs to the main Internet exchange points in Illinois at 350 E. Cermak Rd, Chicago IL and peering locations in Oak Brook IL. The 400 Gigabit backbone is built to provide high speed and redundant capacity from the main Internet exchange points to the Urbancom.net network operations and co-location facility in Oak Forest IL.
This network connects governmental buildings, colleges, hospitals, libraries, schools and commercial enterprise customers to the high speed information super-highway at the speed of light. Network access capacity to each customer of up to 1 Gbp, 10 Gbps or even 100 Gbps with a 99.999% uptime SLA is available to our network subscribers.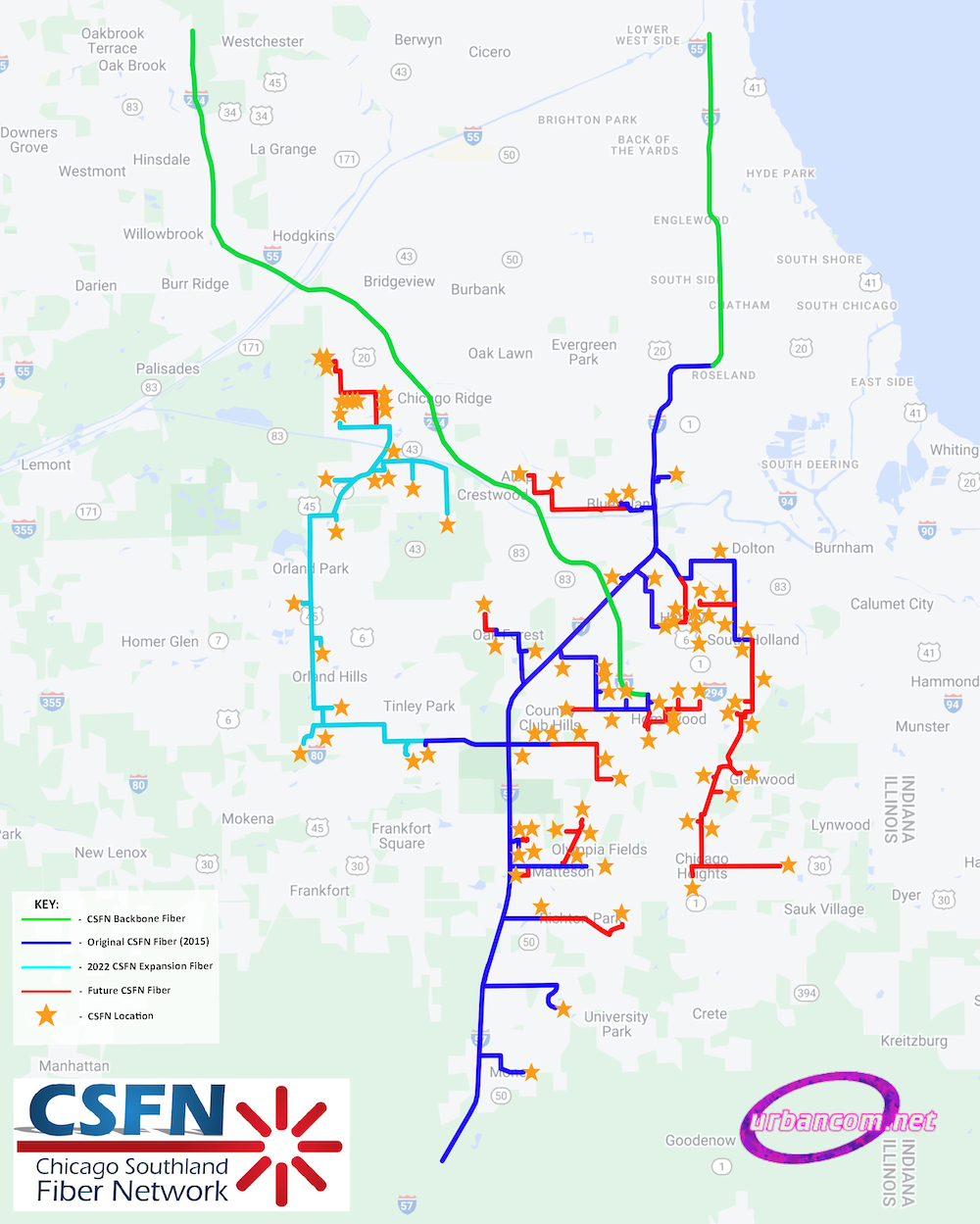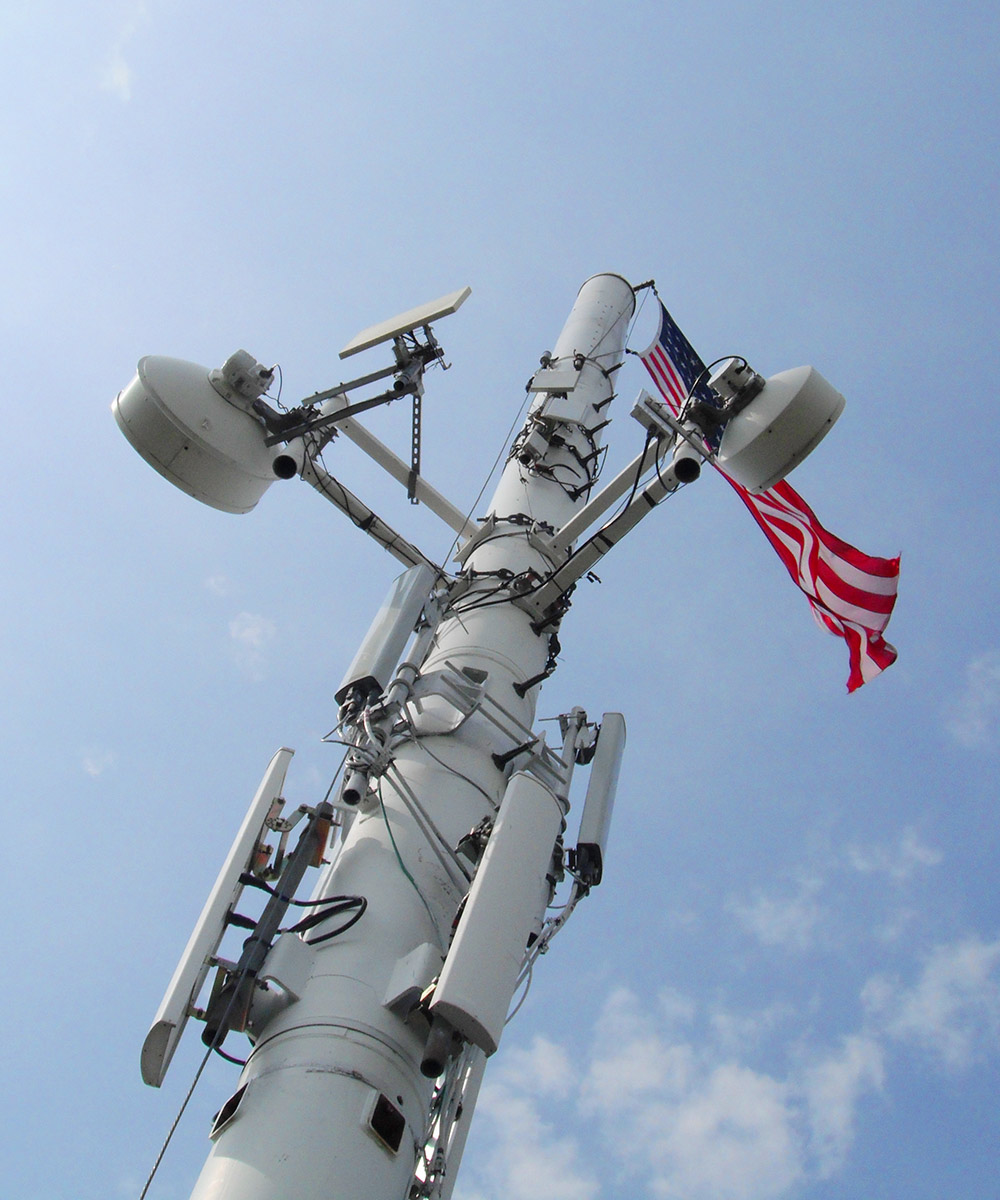 LET US HELP YOU CONNECT TO THE WORLD
Urban Communications, Inc. (Urbancom.net) is the oldest and most robust fixed wireless broadband internet company in the Chicago Metro area. Since 1997, we have been the premier high speed broadband wireless access provider in the Chicago area serving government agencies, enterprise businesses, and small businesses. We also provide fixed wireless residential services in Cook, Will, DuPage and Kane Counties.
We utilize a 100% diverse metro-ethernet network using licensed carrier grade microwave radios linking all of our towers. Additionally, we are the only fixed wireless carrier to provide an additional redundancy by bridging our microwave network with a 50 mile fiber optic connection lit by Urbancom.net equipment providing gigabit speeds end to end. Since 2004, we have been providing an enterprise class hosted Cisco PBX voice and SIP VoIP services to our customers, allowing them to save money and become more efficient in their businesses.
Urbancom.net is now proud to offer enterprise and governmental customers in select areas ultra-high speed gigabit fiber internet on the Chicago Southland Fiber Network (CSFN) located in the Chicago South Suburbs and on the iFiber network located in northwest and north central Illinois.